Nicaraguan-born Printmaker Shows Satirical Works at Local Gallery.
By Eleanore Catolico – The Gate Newspaper
Self-expression against corporate imperialists never gets old, and this time, the artist embraces a tradition of transgression and never gets his hands dirty.
The Nicaraguan-born, Chicago-based printmaker Carlos Barberena's provocatively-titled exhibition "In Greed We Trust," substitutes our religious devotion (God with a capital 'G') with the destructive lust of one of the deadly sins (Greed with another capital 'G').
In his new exhibit, Barberena gives art history an edgy, pop culture makeover, all in the spirit of satire that cuts deep into the psyche.
Prospectus Art Gallery Director and Founder Israel Hernandez, who has had a close working relationship with Barberena for years, said this collection speaks to the current political climate.
"It talks about what happens in the moment," Hernandez said. "He puts some humor into it. He's sarcastic."
"In Greed We Trust" is a collection of linocuts and woodcuts that's currently being shown at Pilsen's Prospectus Art Gallery, located at 1210 W. 18th St. in collaboration with Arte y Vida. The exhibition is a celebration of Barberena's recent national printmaking award in Nicaragua and his selection to represent his home country in the XIII Art Salon, Identity Imprint: A Glance at Ibero-American Printmaking at the Mexican Cultural Institute in Washington, D.C.

"The Four Horsemen of the Apocalypse" (after Dürer)
The recognition cements the artist's status as one of the premier printmakers living in Chicago.
It's befitting that Barberena's linocuts and woodcuts, which are for the most part unframed, hang on the walls of Prospectus Art Gallery because the artist space has been fostering the city's talent since its establishment in 1991. Hernandez, a Pilsen native, opened the gallery to make art available to the community.
"I felt that there was a big necessity to open something positive in the neighborhood," Hernandez said. "I try to showcase more established, more professional artists."
At the helm of the gallery's curatorial duties, Hernandez has exhibited the likes of heralded Chicago imagist painter Ed Paschke and architectural photographer Harold Allen, but also supported Latin American artists who struggled to make contacts in the local art scene and overcome language barriers. Artistic non-profits often hit rough patches and lack of critical dialogue is hurting neighborhood galleries like Prospectus.
More than a decade later, Prospectus Gallery continues to participate in Pilsen's burgeoning artistic renaissance despite these struggles.
"In Greed We Trust" is a continuation of this engagement.
Barberena's art is first and foremost accessible in its production, but also in its visual language. The sharp black and white line details, as a result of the printmaking process, lends itself to the portrayal of historical icons, giving the images a stateliness that is comically undercut by pop culture appropriation. This includes Mickey Mouse's head superimposed on one of the four horsemen of the apocalypse or the Mona Lisa envisioned as La Catrina and sporting a pin of McDonald's golden arches. The exhibition's mashup of anachronisms and highly astute art history vocabulary is revelatory and on the pulse of art today. It's Albert Durer meets Jose Posada meets Banksy.
Satire is the star of "In Greed We Trust," but striking images of Palestinian families and migrant workers echo a revolutionary sensibility of battleground documentarians.
The eclecticism in "In Greed We Trust's" subject matter reinforces the idea of transgression as profane vandalism of the highest order.
Carlos Barberena's "In Greed We Trust" ends its run at Prospectus Gallery on Sunday, May 4, 2014. Prospectus Gallery will be hosting a printmaking demonstration conducted by Barberena on Friday, April 11 from 6 to 9 p.m. For more information on Barberena, visit www.carlosbarberena.com
All Prospectus Gallery events are free and open to the public. For more information on Prospectus Gallery, visit prospectusartgallery.wordpress.comGrabador Nicaragüense Exhibe Obras Sátiricas en Galería Local.
Por Eleanore Catolico – The Gate Newspaper
La autoexpresion en contra de imperialistas corporativos nunca pasa de moda, esta vez, el artista adopta esta tradición de transgresión y nunca se ensucia las manos.
La exposición del grabador nativo de Nicaragua, con sede en Chicago provocativamente titulada "In Greed We Trust
(En la Avaricia Confiamos)" sustituye nuestra devoción religiosa (Dios con 'D' mayúscula) con el deseo pernicioso de uno de los pecados capitales (Avaricia con 'A' mayúscula).
En su nueva exposición, Barberena le da a la historia del arte un vanguardista cambio de imagen de cultura pop, todo con un aire de sátira que corta profundamente dentro del psiquismo.
El director y fundador de la Galería de Arte Prospectus Israel Hernández, quien ha tenido una cercana relación con Barberena durante años dijo que su colección le habla al actual ambiente político.
"Habla de lo que pasa en el momento", dijo Hernández. "Le pone un poco de humor. Él es sarcástico".
"In Greed We Trust" es una colección de grabado en linóleo y en madera que actualmente se exhibe en la Galería de Arte Prospectus, ubicada al 1210 W. 18th St. en colaboración con Arte y Vida. La exposición es una celebración del reciente galardón de grabado que Barbena obtuvo en Nicaragua y su selección para representar a su país natal en la Sala de Arte XIII, Identidad Impresa: Una Mirada al Grabado Iberoamericano en el Instituto Cultural Mexicano en Washington, D.C.

"The Four Horsemen of the Apocalypse" (after Dürer)
El reconocimiento cementa el estatus del artista como uno de los principales grabadores viviendo en Chicago.
Es apropiado que los grabados en linóleo y madera de Barbena, que en su mayoría no están enmarcados, cuelgan de las paredes de la Galería Prospectus ya que el espacio de artistas ha estado fomentando el talento de la ciudad desde que fue establecido en 1991. Hernández, originario de Pilsen, abrió la galería para poner el arte a disposición de la comunidad.
"Sentía que había una gran necesidad de abrir algo positivo en el vecindario", dijo Hernández. "Trato de exhibir a artistas más establecidos, más profesionales".
A la cabeza de los deberes de comisariado de la galería, Hernández ha exhibido a gente de la talla del reconocido imaginista pintor de Chicago Ed Paschke y del fotógrafo de arquitectura Harold Allen, pero también ha apoyado a artistas latinoamericanos que lucharon por hacer contactos en el ambiente artístico local y superaron las barreras del idioma. Las organizaciones artísticas no lucrativas suelen tener momentos difíciles y la falta de un diálogo crítico está afectando a galerías de la comunidad como Prospectus.
Más de una década después, la Galería Prospectus sigue participando en el floreciente renacimiento artístico de Pilsen a pesar de estas luchas.
"In Greed We Trust" es una continuación de este compromiso.
El arte de Barberena es ante todo accesible en su producción, pero también en su lenguaje visual. Los agudos detalles de las líneas en blanco y negro, como resultado del proceso de grabado, se prestan a la interpretación de iconos históricos, dando a las imágenes una majestuosidad que cómicamente es debilitada por la apropiación de la cultura pop. Esto incluye la cabeza de Mickey Mouse sobrepuesta sobre uno de los jinetes del apocalipsis, o la Mona Lisa concebida como La Catrina portando un broche de los arcos de McDonald's. La mezcla de anacronismos y el astuto vocabulario de la historia del arte es revelador y está sobre el pulso del arte hoy. Es una mezcla de Albert Durer con José Posada con Banksy.
La sátira es la estrella de "In Greed We Trust", pero las imágenes llamativas de familias palestinas y trabajadores migrantes hacen eco de una sensibilidad revolucionaria de los documentalistas más disputados.
El eclecticismo del tema de "In Greed We Trust" refuerza la idea de la transgresión como vandalismo profano de primer orden.
"In Greed We Trust" de Carlos Barberena termina su temporada en la Galería Prospectus el domingo, 4 de mayo del 2014. La Galería Prospectus tendrá una demostración de grabados conducida por Barberena el viernes 11 de abril de las 6 a las 9p.m. Para más información sobre Barberena visita www.carlosbarberena.com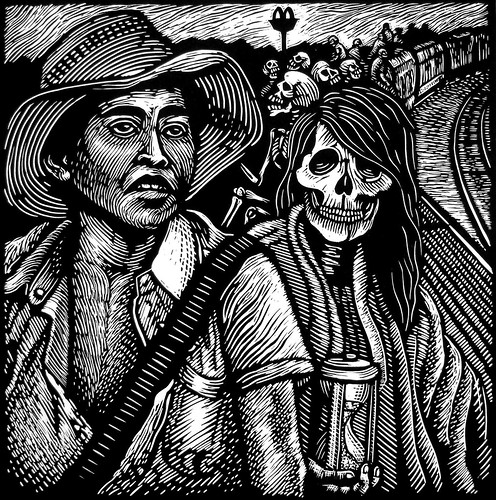 "Riding the Beast" (La Bestia)
Todos los eventos de la Galería Prospectus son gratuitos y están abiertos al público. Para más información acerca de la Galería Prospectus, visita prospectusgallery.wordpress.com