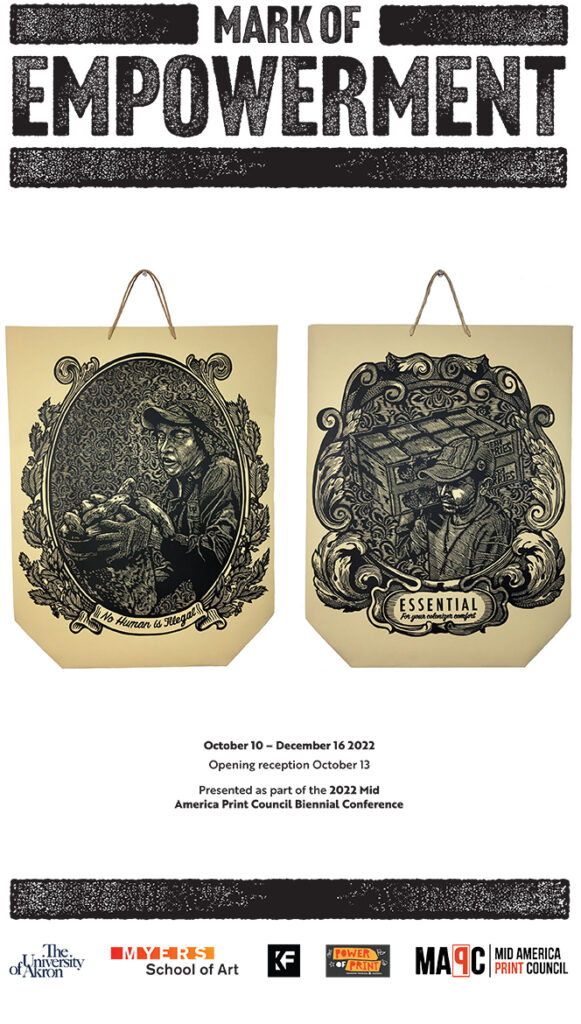 OPENING RECEPTION: THURSDAY, OCTOBER 13, 5:00PM – 
​
EMILY DAVIS GALLERY, MYERS SCHOOL OF ART, UNIVERSITY OF AKRON, AKRON, OH
​Open to Public: OCTOBER 10 – DECEMBER 16, 2022
Resilience. Artists are granted the freedom to imagine a world that is logical and communal without restrictions. Having a powerful spirit of resistance has influenced and led to great thinkers, poets, and visionaries. The exhibition, Mark of Empowerment, honors the incredible legacies that inspire communities to stand up for their rights and freedoms. The power of print has not only changed the course of history, but has revolutionized the way people engage with their imagination. This exhibition reflects on how printmaking takes action to speak out with activism. The work challenges racism, sexism, environmental injustice, social inequalities, infringement upon civil rights, and colonialism.
​
These artists are in constant defiance as they speak out about their beliefs and inspire others to take action by visually creating new perspectives. In this exhibition, artists present work that investigates the role of resistance, revolution, and social activism by utilizing printmaking as a tool to provoke reflection and action. Some use commentary, and when examined closely, all reveal a distinct message. These works also represent conflict in public spaces. In this present moment, it is more crucial than ever to challenge the status quo, preventing inequities in systems and rejecting establishments. This exhibit demonstrates art as a means to educate people about complex social issues that will engage the viewers to become a part of a movement or begin one.
Artists
Marco Sánchez, Faisal Abdu'Allah, Barbara Justice, Adriana Barrios, Juana Estrada Hernández, Enrique Chagoya, Ernestro Yerena Montejano, John Hitchcock, Guerrilla Girls, Christie Tirado, Israel Campos, Kathryn Polk, Kill Joy, Monty Little, Dakota Mace, Ash Armenta, Derick Wycherly, Jennifer Mack, Elizabeth Jean Younce, Chema Skandal, Carlos Barberena, Emily Arthur
About the Mid America Print Council
The Mid America Print Council is an educational and community-based organization that focuses on all print-related arts. Embracing both time-honored and innovative approaches, we promote awareness and appreciation of traditional and contemporary forms of printmaking. We are an inclusive association for individuals and institutions, administering the sharing of technical and critical information regarding print. Honoring our predecessors, we aim to bring new and sustained interest to this unique medium. Active on multiple platforms, MAPC is an organization that provides members with access to a network of printmakers, resources, opportunities, newsletters, and a biennial conference that features speakers, workshops, panels, shows, and exchanges. Through calls for participation, we organize members' exhibitions and publish The Mid America Print Council Journal. Our goal is to recognize, advocate, and continue research in historical, current, and future print technologies. Learn more at midamericaprintcouncil.org.
Free